May 16, 2013
Grapes
34% Chardonnay, 33% Renski Riesling, 33% Pinot Gris
Facts
Ahhh yes! There's nothing better than getting home from a hard day's graft ( after staring at a computer for most of the day) than to kick off my shoes, and reaching for a bottle of Kupljen "Spirit of Svetinje" from the Jeruzalemsko-Svetinjske hills of north-eastern Slovenia…
Ok, so that's a lie. Firstly, I mainly work out of my house, so my shoes are pretty-much off all day. Secondly, this happens to be the first bottle of Slovenian wine which has ever entered the Chislett household; and indeed, the first which has ever graced my lips.
The first thing that caught my eye, was that this bottle's an '03. For a white wine, that's usually not a good sign. Usually the stuff you find in the bargain bin at the local liquor store.
So I jump onto the Kupljen website, half-expecting to be told the current vintage is in-fact 2012 (or something similar). Nope! The current vintage is in-fact 2003….I sure-as-hell hope that the nice people at the Kupljen winery know what they're doing here…
Luckily for me (and you), the nice people at the Kupljen winery have actually been making wine – in one form or another – since 1836….so they've had plenty of practice. Little-did-I-know, the wines from this particular region of Slovenia are famed for their aging potential.
The Kupljen winery is a family winegrowing estate, with winemaker Jože Kupljen (no, I can't pronounce it either) launching the Vino Kupljen wine brand in 1976.
Renski Riesling: It's kind-of like Riesling, but not….
Oh, you want more information than that!?!?! Well, Renski Riesling tends to be more aromatic than the more common "straight-Riesling" grape, showing lots of acidity, as well as peach, apricot and mineral notes.
Reviews
| Tagged
Chardonnay
,
Kupljen
,
Pinot Gris
,
Renski Riesling
,
Riesling
,
Slovenia
,
Slovenia wine
,
Spirit of Svetinje
|
1 Comment
//
---
May 15, 2013
Wine infographic brought to you by: www.wild-grapes.co.uk
Posted in
Facts
| Tagged
Infographic
|
1 Comment
//
---
May 9, 2013
Posted in
Funny
,
Pairings
| Tagged
Pinot Noir
,
Pinot Noir Food Pairing
|
Leave a comment
//
---
April 30, 2013
Even though Bordeaux remains the Old World wine of choice for many with new money to burn, their tastes are no-doubt changing.
When people think of Bordeaux, sweet wine is more than likely the LAST thing on their mind!
Sauternes and Barsac, in the Bordeaux region of France, make a very different kind of wine than people have come to know Bordeaux for; namely, sweet and white. But growers in the region have slowly started to move away from producing sweet whites, after they've seen it fall out of fashion with the general public.
"It's sad because Sauternes has never been better," said Andreas Larsson, a Swede who won the "Best Sommelier in the World" competition in 2007. "But that's the way the world is going. There's no market for sweet wine."
Adding to the woes of Sauternes was a disastrous 2010 vintage, in which some of the top properties, including D'Yquem, decided not to make any sweet wine at all, saying the grapes lacked the necessary concentration.
What is different now is that some chateaus are giving up entirely on sweet wine, and outsiders are moving in, looking to make dry wines in the area.
Olivier Bernard of Domaine de Chevalier, which produces some of the greatest dry red and white wines in Bordeaux, from the Pessac-Léognan appellation, said "Sauternes is one of the greatest white wine terroirs in the world, for sweet or dry wine, but what the market wants now is dry wine."
Click here for the full article from the New York Times.
My Thoughts…
I always have the hardest time selling/tasting people on sweet dessert wines…actually…let me rephrase that: Wines in the "dessert wine" category are no problem to sell, it's more their levels of sweetness within that category.
Not all dessert wines are created equal, and people have a hard time coming to grips with the fact that Moscato and Sauternes are in the same category, since they have very different levels of sweetness.
I guess what bugs me is that I keep reading these articles from numerous "well-respected authors/sources" saying that tastes are changing and people are gradually moving into drier styles of wine. I don't know where they're getting their information, but I couldn't disagree more! The recent Moscato craze should help to – at least partially – backup my theory.

As with most of these "issues of taste" in the wine industry, I put it down to educating the consumer i.e. no-one knows what to do with Sauternes! Do you drink it like table wine? Do you sip it like brandy? Do you pour it over your ice-cream? What do you do with it?!?!
Those, at least, are the problems I personally see from my time spent "in the trenches" (and by '"trenches," I mean running a wine bar…)
I hate to say it, but this story is just another example of French wine producers wailing "Woe, is me!" after they have rested on their laurels, struggled to move with the times and failed to continue to educate wine drinkers on their product.
Wine consumption is at an all time high. There should be no excuse for slow sales of ANY wine category. Problem is, now that Sauternes producers have dug themselves into a hole, digging their way out is going to be quite the struggle. On second thoughts, maybe they can convince a rapper to write a song about it! Hmmmmm….now let me think….what rhymes with Sauternes….???
Posted in
News
| Tagged
Bordeaux
,
France
,
Sauternes
|
1 Comment
//
---
April 19, 2013
Grapes
100% Cabernet
Facts
There's Napa and there's Napa. The term "Napa Cabernet" is all too often used to refer to any wine that hails from "The Valley." This rhetoric quite effectively tars all wineries with the same brush: from the behemoth brands, supplying many of the large grocery stores with their generic-tasting wine-flavored alcohol; all the way through to the small estate properties, producing miniscule quantities of truly hand-crafted wines each year.

The problem here is that there's a growing number of smaller wineries who are placing great emphasis on the land (that goes way beyond the marketing hype on the back label of their bottles), and so the differences are becoming more and more apparent with every vintage in Napa.
The Baldacci Family have owned this property since '97. The original plans for the land were to simply turn it into a real estate investment…but where's the fun in that!?!?! Thomas Baldacci – in what was probably an idea devised after numerous glasses of wine – decided instead to turn his attention towards growing grapes and also building somewhat of a lasting heritage for his family, by building what is now the Baldacci Winery.
The Baldacci Family own 37 total acres of vineyard land in the Stags Leap and Carneros AVAs of Napa. Since they're growing their own grapes and making their own wine, they have a much greater control over the juice that's going into the bottle.
The original plan for the Baldacci winery was to use all the properties' grapes for their wine program. Only problem was, they didn't know if they could successfully shift 3,000+ cases a year at a retail level. Therefore, the winery used the years prior to '06 to really hone their individual bottlings, and sold-off their excess grapes. This as opposed to just banging-out large quantities of juice from the get-go, and hoping that someone would buy. Smart move!
Reviews
| Tagged
Baldacci
,
Baldacci Cabernet
,
Cabernet
,
Napa
,
Napa Valley
,
Stags Leap District
|
Leave a comment
//
---
April 19, 2013
Posted in
Funny
| Tagged
Funny wine meme
,
Wine meme
|
Leave a comment
//
---
April 11, 2013
This was sent to me by a school-teacher friend a couple of days ago. She thought I might enjoy it. She was right! According to her text messages, the exact conversation went as follows:
Kid: "Why are you taking a picture of my work?"
Teacher: "Because my friend sells wine…"
Kid: "Your friend sells wine?"
Teacher: "Yes. He'll like this…"
Posted in
Funny
| Tagged
funny meme
,
Funny wine meme
,
Wine meme
|
Leave a comment
//
---
April 10, 2013

I was asked to write an article for Jacksonville Magazine a few weeks ago, and I figured – since my postings here have been kind-of "slack" of late – I would share it with my wonderful readers. The beers – in case you don't recognize them – are all local Jacksonville breweries.
Chicken
Since many chefs view chicken as a "blank canvas" on which to exercise their culinary creativity, the type of BBQ sauce chosen to coat this delicate meat will be your main reason for success; at least, if you are looking to achieve a "perfect pairing."
When matching with spicier foods, try to remember that a little residual sugar goes a long way! Gewurztraminer is a great example of a wine with a hint of sweetness, a restrained level of alcohol and will help to temper any amount of "heat."
Wine Recommendation: Gewurz by Alexander Valley Vineyards Gewurztraminer, Mendocino, California $12
Beer has long been the traditional drink of choice when pairing with barbecue and a Hefeweizen will provide a slightly bitter component to contrast the smokiness of the meat.
Beer Recommendation: Weissguy by Engine 15
Pork
Pork – whether it's pulled or shredded – is great at any time of the year; but the casual presentation of a pulled pork sandwich, as well as the ease of its preparation, makes it especially perfect during the summer months.
When pairing with pork in any form, it would be hard to go wrong with Pinot Noir. Pinot (for short) is an incredibly versatile food-pairing wine; from the more rustic examples coming out of the Burgundy region of France, all the way through to the "red-fruit bombs" in California.
Wine Recommendation: A-Z Pinot Noir, Oregon $20
Cream/blond ales tend to show a little-more sweetness than traditional ale, with less bitterness than pale ale or IPAs. The added bonus here is that they would also pair perfectly with thick and creamy coleslaw.
Beer Recommendation: Killer Whale by Bold City
Turkey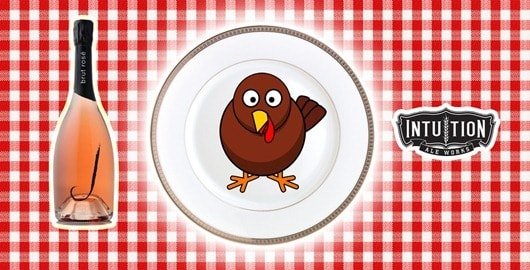 With Thanksgiving long behind us, BBQ turkey offers a moist and savory alternative to the usually dry and flavorless meat served during the holidays!
Sparkling wines can be a match made in heaven with difficult to pair foods. A sparkling "brut" rose would provide a delicate hint of sweetness, whilst being able to cut through the fat of the turkey and to balance the bold flavors of a BBQ sauce.
Wine Recommendation: J Brut Sparkling Brut Rose, Russian River Valley, California $30
Turkey calls for a light and crisp summer-style "session beer," so as not to over-power the meat. The hint of sweetness in beers of this style will also match the caramelization in the turkey skin.
Beer Recommendation: Jon Boat by Intuition
Ribs
Ribs – often referred to as baby back ribs – are taken from the lower back rib-section loin of the pig. The perfect rack of ribs should be tender, juicy and melt in your mouth…but be prepared to cling to your napkin!
If any wine was ever considered to be a bully, Zinfandel would be it! A hearty Zin will stand-up to anything! A huge mouthful of blackberries and big tannins will find a welcome home with ribs slathered in a slightly sweet and not-too-spicy BBQ sauce.
Wine Recommendation: Haraszthy Zinfandel, Amador County, California. $16
Craft brews and BBQ go hand-in-hand, offering a complementary and contrasting flavor-experience. A hoppy beer will make a seemingly easy task of cutting through the grease and will pair nicely with rich and full-flavored ribs, as well as smoked meats of any variety.
Beer Recommendation: Rye of the Tiger, Engine 15
Brisket
Brisket comes from the chest area of the cow between the forelegs; and when cooked right, offers a juicy and tender cut of meat that will feed your whole family, with plenty for leftovers!
Argentina has a long tradition of raising some of the highest quality cattle in the world. It therefore makes sense that most of their red wines come ready-prepared to handle anything of the bovine variety.
Wine Recommendation: Zolo Malbec, Mendoza, Argentina $12
When looking to provide a complementary beer pairing with brisket, it would be hard to go wrong with a stout. The chocolate, coffee and smoky-flavors inherent in most stouts will enhance this already intense, rich and roasted meat.
Beer Recommendation: King Street Stout by Intuition
Original Jacksonville Magazine Article:
Posted in
News
,
Pairings
| Tagged
how to pair beer with BBQ food
,
how to pair wine with BBQ
,
Pairing wine with BBQ food
|
2 Comments
//
---
April 1, 2013
Ok! The long-awaited second part to my: Pairing Wine with the Cast of Downton Abbey series!
Once again, just so we're all on the same page, if you haven't seen Downton Abbey, this is all going to make absolutely ZERO sense to you! Then again, if you haven't seen Downton Abbey, this is a perfect reason to do so! I would like to point-out that there are a few "spoilers" lurking within this article…so read at your risk!
The one thing to know about this post is that I didn't pair a wine with every Downton character – mainly because there's so bloody many of them – but also because there's quite a few drab ones in the bunch.
What follows is my own take on pairing wine with the staff of the hit TV show: Downtown Abbey. Enjoy!
Charles "Charlie" Carson

Role: Butler.
Memorable Quote: "I do not wish to take a tour of your revolting world!"
Bio: Contrary to popular belief, Mr. Carson doesn't actually own Downton Abbey, he just works there. The Butler at Downton, Charlie Carson is in charge of the male staff and takes care of the dining room and the all-important wine cellar.
Mr. Carson spends most of his weekends polishing the silverware and pretending he's not gay. (That's right, I'm calling it!!!)
If he were a wine he would be:
Why?: Old, bold and smelling vaguely like mold, Right Bank Bordeaux shares the distinction of being "a Bordeaux" with the more well-known and more aggressive Left Bank, but happens to be quite soft at heart, if you just let it open up a little.
Elsie Hughes
Role: Head Housekeeper
Memorable Quote: Mr. Carson: "Keeping up standards is the only way we can show the Germans we will not be beaten in the end!"
Mrs. Hughes: "Well, give me some warning the next time we're expecting Germans at Downton and I'll see what I can do!"
Bio: The ever-so watchful and attentive housekeeper, Mrs. Hughes is in-charge of the female staff at Downton. She isn't married and probably never will be, since her standards are so high.
If she were a wine she would be:
Why?: Grand Cru Beaujolais is the best-of-the-best – at least, as far as Beaujolais goes – managing to strike a perfect balance between being more serious than its peers, whilst also staying fairly fruity and youthful.
John Bates
Role: Lord Grantham's valet (whatever that means…)
Memorable Quote: "Funny, our job. The way we live with all this pirate's horde within our reach but none of it's ours."
Bio: The hardworking wartime friend of Lord Grantham, Mr. Bates is the dark horse of the bunch.
His military experience, combined with his having served time in prison over the death of his ex-wife, Bates is not someone you want to cross.
If he were a wine he would be:
Why?: Incredibly complex, but in my opinion "released" too early. A couple more years locked away should supple it up a bit!
Sarah O'Brien
Role: Lady Cora's maid.
Memorable Quote: Thomas: (talking about Matthew Crawley, heir to the estate) "Are we to treat him as the heir?"
O'Brien: "Are we heck as like! A doctor's son from Manchester!?!? He'll be lucky if he gets a civil word out of me!"
Bio: Without a doubt my absolute favorite character on Downton Abbey, and not just because she starred in Rita, Sue and Bob Too in her younger years.
Ms. O'Brian has an ever-so malicious and spiteful side to her; but for some reason, confides in Thomas to plot against Mr. Bates. If Downton Abbey were a game of Clue/Cluedo, it would be: Ms O'Brien, in Lady Cora's bathroom, with a bar of soap…
If she were a wine she would be:
Why?: Intense, should only be handled in small doses and one sip will have people wondering why they even gave it the time of day! Both will leave you with a bitterness you can taste for quite some time.
Thomas Barrow
Role: First footman
Memorable Quote: "I'm not foul Mr. Carson. I'm not the same as you, but I'm not foul."
Bio: Dirty-scheming Mr. Barrow! Where do I even start with this guy…?
First he tried to get rid of Mr. Bates, so he could become Lord Grantham's valet. Then he deliberately almost got his hand shot-off on the front-lines of the war, so he could return home. Upon returning to Downton, his shenanigans continued, successfully managing to piss-off everyone in the Downton house. Coming out of the closet is the only redeeming thing this guy has done!
If he were a wine he would be:
Why?: Australia doesn't make many roses, but when they do….they aren't all that good! Fruit-forward, fairly obnoxious and the only reason you bought the bottle was probably because it had a good-looking label. I'm sure there's a place for Australian roses, but it's not in my house…
Daisy Robinson (Mason)
Role: Kitchen maid.
Memorable Quote: Daisy "You've still kept me here with a dishonest representation."
Mrs. Patmore: "Oh dear, have you swallowed a dictionary?"
Bio: Dumber than a box of rocks, but oh-so adorable, Daisy manages to annoy Head Cook Mrs. Patmore purely by the sound of her breathing.
Naivety lies at the center of Daisy's personality, which is perfectly illustrated by her crush on Thomas in season one.
If she were a wine she would be:
Why?: Young, fun, bubbly and a little-bit stupid. It's hard to complain about grocery store Moscato. Everyone should just take it at face value. It's just happy to be here!
Beryl Patmore
Role: Head Cook.
Memorable Quote: "Daisy, what's happened to you? I said you could go for a drink of water, not a trip up the Nile!"
Bio: Mrs. Patmore is the ever-lovable cook at Downton. Needless to say, like most of the Downton characters, she has had her fair share of drama! In season one she contracted cataracts and then later her nephew is shot on the battlefield for cowardice.
Things have settled down a little now for Mrs. Patmore…which means her character is probably going to be killed off in the next season…
If she were a wine she would be:
Why?: Big, voluptuous and with plenty upfront; both wine and Cook make no apologies for themselves, offering a policy of "take me or leave me!"
Posted in
Funny
| Tagged
Downtown Abbey
,
Downtown Abbey wine
,
Downtown Abbey wine pairing
,
Pairing Wine with the Cast of Downton Abbey
|
1 Comment
//
---
April 1, 2013
I couldn't help but post this….with the particular students' permission of course.

As some of you may or may not know, I have spent the past year teaching a wine class at the local Art Institute here in Jacksonville. It's only part-time, which turns-out to be perfect, since it enables me to keep my other "side-gigs" going, but it's also actually extremely rewarding.
Seeing students go from literally never tasting a wine before, to being able to be blind-tasted and know roughly where it's from and name the grape, is pretty cool!
Any-who, a couple of my students just recently took their final wine exam – and passed with flying colors by the way – but I thought it would be worth sharing with you a couple of the more amusing answers I received.
#66 -"Bearing in mind the year we are in right now, how would you pair this particular wine (a 1985 Rioja) with food?"
Answer: "With foods/recipes that were commonly eaten back then." [When I read this, I laughed so hard I actually cried. For what it's worth, I was looking for a few more specifics within this answer. To simply write "…with foods/recipes that were commonly eaten back then." just doesn't quite seem to do the question justice.
#67- "How old do the vines have to be, according to U.S. law, in order for them to be classified as "Old Vines on a wine label?"
Answer: "That's just marketing crap." – [Correct; and if I could, I would give you extra points for this one.]
Posted in
Funny
| Tagged
Funny Wine Quiz
,
Wine Quiz
|
3 Comments
//
---
← Older posts