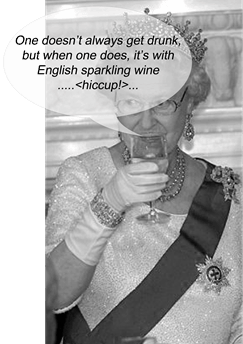 According to reports, sales of English sparkling wine are set to hit 5 million bottles by 2015.
There are almost 400 vineyards in the UK now, almost twice that of 10 years ago.

"We have a unique terroir that makes English sparkling wine special. It's more expensive to produce than Champagne, the cost of land is higher and yields are lower." said Ridgeview winemaker Charlie Holland.
"It's a fallacy to say you can't ripen grapes in England. We're a very cool climate region, but this allows for a long growing season, helping grapes develop full phenolic ripeness, a full flavour profile and natural sugars," said Holland.
And it's not just in the UK where English wines are seeing success, with exports now accounting for 20% of Ridgeview's sales.
"Exports are a massive thing for us. We're seeing great success in New York, Holland, Belgium, Japan, Hong Kong and Australia – there isn't the same stigma there for English sparking as we've experienced in France, Spain and Italy," Holland said.
Click here for the full article from The Drinks Business.
---
My Thoughts…
This is great news; although, I'm still very eager to try a bottle of British bubbly for myself. When I was last over there (in August of 2011) I had the hardest time getting my hands on a bottle. I tried 3 different large grocery stores and 3 different independent wine retailers and still no luck!
Since European wines already dominate UK wine sales (due to the obvious ease of transport into the UK), if the English wine industry is really going to succeed, the wineries really need to first-and-foremost get the large grocery store chains on their side. This is critical if the wine is to gain widespread acceptance amongst the mainstream English public and potentially compete with Champagne sales.
Once the Brits are convinced as to the quality, and they have the branding all worked out (they still don't have a name for sparkling wine that hails from England), they can then focus on markets further afield.