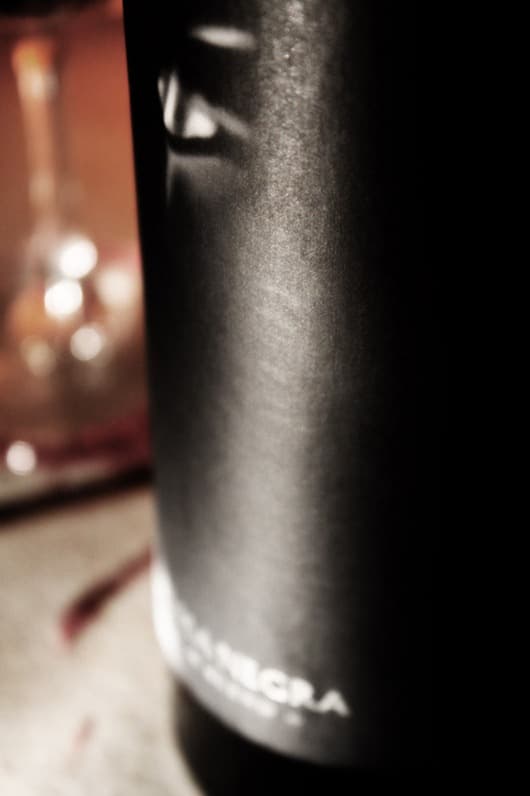 Grapes
Malbec, Bonarda (Percentages are kept a secret….like we care!)
Facts
It's not mandatory that you sit on the front porch of your house on Halloween with your "better half" to drink the Alma Negra "M Blend," but that's what I chose to do last night.

In my former life (as a Restaurant Manager) I always seemed to find myself missing out on most of the "fun" holidays (Halloween, Valentines Day, Saint Swithin's Day etc.). I therefore don't have any real frame of reference as to what the protocol is. Not that I'm one to follow traditional rules anyway! We're talking about doing Sushi for Thanksgiving this year…

So for Halloween 2012, I took to sipping Malbec on the front step of my house, with a big bowl of candy at my side (being rapidly depleted by not only myself, but also by little people in costume) and handing out miniature bottles of wine to the adults. I might have to make a tradition out of this!
Much in the the same way as Merlot, the overall consumer perception of Malbec has been skewed by the vast majority of crappy Malbec which seems to dominate the market. The reason I want to throw that out there is that I was quite surprised when I tasted a group of older individuals at one of my wine groups on the Alma Negra, and they they weren't huge fans. I tend to use these groups as a good gauge as to what people are drinking, and the general consensus was that "…it doesn't taste like Malbec."

I don't disagree with that statement. No indeed it doesn't taste like a sweetened-up blueberry and blackberry smoothie…the style which had become so popular in the grocery store tier of Malbec! I should have told them it was from Napa and twice the price. I guarantee they would have loved it!
Bonarda might be foreign to you, and truth be told I've never tasted a 100% wine with the grape before, but Bonarda is actually the second most widely grown red wine grape variety in all of Argentina.
'03 was the first vintage of Alma Negra. The winery was started by a little-known gent named Ernesto Catena, with only 11 barrels being initially produced.
Alma Negra translates to "dark soul."
Place (click map for larger view)
No, the Argentineans didn't invent Malbec, but they might as well have! The grape used to call Bordeaux its stomping ground, where it still remains one of the "big five" grape varieties. Over time Ze French started to get un peu fatigué of the troublesome Malbec grape, which has a tendency for bunch rot and mildew. As if things weren't bad enough, the Phylloxera epidemic of the 1860s which wiped out the majority of vineyards in France, with Malbec being one of the hardest hit.
The final straw came in 1956, when a frost throughout the country killed more than 80% of Malbec plantings. The French cried "Sacre bleu!!!! Merde-merde-merde!!!" in unison (I'm guessing), and most growers didn't replant the grape in their vineyards, preferring the other four more popular Bordeaux red grape varieties.
Malbec is still found in small quantities in Bordeaux, where it's used to add color and tannin to blends.
Mendoza has quickly become the Malbec capital of Argentina. The grape was introduced (along with Cab and Merlot) in 1868 from cuttings in Bordeaux, where the grape has thrived ever-since in the warm dry climate.
Mendoza accounts for 70% of Argentinean wine produced, and 84% of all Argentinean Malbec.
Argentine vineyards rely strongly on the snowmelt from the Andes mountains for their irrigation.
Vineyards are widely spread out up-and-down the whole country, but mainly confined to the western part of Argentina (as per the map), due to the aforementioned issue of irrigation.
Taste
Heavier than people have come to expect from Malbec, the Alma Negra "M Blend" spent 8 months in barrel, a luxury not afforded to most "El Cheapo" brands, and so you can understandably see how the consumer perception of Malbec has become a little skewed.
Medium-full bodied, with mainly dark fruit, but also sold ripe blueberries. Savory notes of smoke, bitter coffee, spice and a little earthy funk. Another 5+ years in the bottle should be no problem.
Pairing
Well, I personally paired it with mini Snickers and Milky Way bars…but if you're looking for something a little more "traditional" you might want to try: Red sauce pastas, smoked / grilled meats, eggplant, duck or short ribs.
Price
$27