"A wine named 'Fish House,' paired with a fish recipe? Wow, BRILLIANT!!! You're a GENIUS!!!"
Alright, give me a break! I was in the mood for tacos, and I felt like I wouldn't be doing the wine justice if I didn't give it a fair shot at pairing with fish….since the wine is named FISH HOUSE!
In all honesty, I don't mind saying that Sauvignon Blanc has quickly grown to become one of my favorite summertime whites, more precisely, Washington Sauvignon Blanc. Don't get me wrong, it's tough for a SB from any wine region to beat a decent French Sancerre or Pouilly Fume, but you'll pay the price! It's no secret that New Zealand SBs have been boring me, and a large amount of wines made from the grape coming out of California (especially Napa) miss the mark and end up being too aggressive. At least in my opinion.
With that out of the way, here's a Tilapia montage…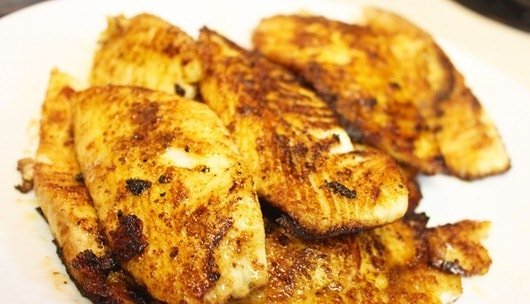 Tilapia: I'm pretty-certain we didn't have Tilapia in England, at least, I never came across it….
To me, Tilapia has a bad rap. Although maybe it isn't the highest quality fish in the world, it has a good texture and is perfect for tacos. What I didn't know, until I did a little research was that:
– Tilapia is the common name for nearly a hundred species of fish.
– Tilapia currently ranks as the 2nd most cultivated fish in the world, after Carp.
– Tilapia can survive in fresh water or brackish water (a mix of fresh and seawater).
– Tilapia has been farm-raised as far back as ancient Egypt!
When you're dealing with this many different spices in a dish, for the most part it's completely pointless to spend a lot of money on Mahi or Cod, this when you're only going to mask the taste. Tilapia is therefore the perfect fish for the job!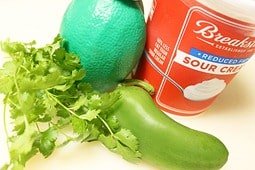 In case you hadn't already noticed, I like to place a large emphasis on inexpensive and easy recipe pairings that I post to this website. The fewer number of steps and ingredients is what I shoot for. With that being said, there are quite a few ingredients in this recipe, but it more than makes up for it with the fact that there are only 3 steps to the recipe. To be truthful, I've found that the most successful food/wine pairings I've created are the easiest ones to make.
Although it only consists of four ingredients, I was quite surprised how much the above onion-mix brought the dish alive. If you're really trying to bring this pairing to life, make sure you don't use dried herbs. Sauvignon Blanc, due to its herbaceous nature, really seems to pickup on fresh herbs (of any variety) in a dish.
I sourced the cilantro direct from my own garden, and if like me, you find yourself going through a fair amount of fresh herbs each week, I would recommend maybe buying a few of those potted herbs that you find at the grocery store and start a little herb garden in a window box. It'll end up saving you a ton of your hard-earned cash.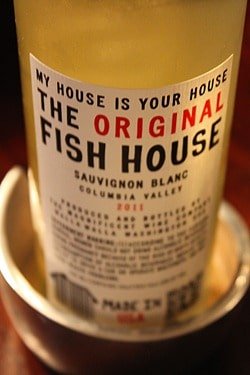 I actually had a friend over for dinner, who made the point of stating: "I don't normally drink white wine, but I could drink this every day!" Clearly he had good taste, because even though the HOUSE WINE line of wines from the Magnificent Wine Company can be lumped into the "value wines" category, it's received a huge amount of praise from the wine mags, being named: one of Wine Spectator's "Top Values of the World" and in the "Top Values of the World" by Wine & Spirits.
That's something to throw in the face of the snobs, who scoff at you for drinking a wine simply named "HOUSE WINE."
As a number of people would probably have guessed from the label, the Magnificent Wine Company (the brand behind this line) is headed by world-renowned winemaker, Syrah-guru and ex-rock-band-roadie Charles Smith. His blatant focus is to produce wines that waaaaaay over deliver for their price, sourcing grapes from multiple vineyards and from multiple vintages.
The Fish House Sauvignon Blanc showed a very aromatic nose, with citrus, lemongrass, gooseberry and lemon zest. The palate is fresh and crisp, dominated by peach and lemon zest with a slight hint of sweetness, which only served to compliment the avocadoes and fresh herbs in the recipe. A medium-long finish, no oak, and vibrant acidity. There is no better pairing with this wine than this recipe, I PROMISE YOU!
The Fish House Sauvignon Blanc retails for around $12.
[print_this]
---
Recipe for Blackened Tilapia Baja Tacos
Serves: 4
Prep Time: 15 mins
Cooking Time: 20 mins
INGREDIENTS
– 1 jalapeno pepper, seeds removed, and rough-chopped
– 1/2 cup reduced-fat sour cream
– 2 tablespoons chopped fresh cilantro
– 1 1/2 teaspoons brown sugar
– 2 tablespoons fresh lime juice
– 1 thinly sliced white onion
– 1 1/2 teaspoons paprika
– 1 teaspoon dried oregano
– 1 teaspoon garlic powder
– 1/2 teaspoon salt
– 1/2 teaspoon ground cumin
– 1/2 teaspoon cayenne pepper
– Tilapia fillets, as many as you think you'll need.
– 2 tablespoons olive oil
– 8 (6-inch) corn tortillas (I used whole-wheat tortillas)
– 1 avocado, peeled and thinly sliced
METHOD
1. Combine first sour cream, cilantro, lime juice and jalapeno in a blender and process until smooth. Combine mix with thinly sliced and onion in a bowl.
2. Combine paprika, cumin, salt, pepper, cayenne, oregano, brown sugar in a bowl, sprinkle evenly over fish. Heat oil in a large cast-iron skillet over medium-high heat. Add fish to pan; cook 3 minutes on each side or until desired degree of doneness.
3. Warm tortillas in lightly moistened kitchen paper, and microwave on high for 20-30 seconds, until warmed through. Set everything down on the table (including the sliced avocadoes), let people help themselves and pretend that this meal was harder to make than it actually was. Hopefully if you play it off well enough, they will take care of the dishes…and you'll be left to finish the wine…
[/print_this]