Grape
100% Gamay
Facts
The Chateau des Capitans Julienas is made by the Beaujolais-pimp himself, Georges Duboeuf. He's in his late-70's now, but still heads the company. Must be all that wine he drinks!
It's estimated that around 1/3 of the entire harvest of the Beaujolais region is sold as Beaujolais Nouveau.
Duboeuf produces over 2.5 million cases of wine annually.
There are only 37,000 hectares (142 sq miles) of Gamay in the world. 23,000 hectares (88 sq miles) are in Beaujolais.
Grape harvest in the Beaujolais region must be completed by hand i.e. no mechanical harvesting. Along with the Champagne region, these are the only regions where hand harvesting is mandatory. I don't know why this is a rule. It just is. The French are weird like that.
Place (click map for larger view)
Julienas is considered a Cru Beaujolais. If you've tasted Beaujolais, and not been a huge fan, you should revisit it in Cru-form! The difference is night and day!

The Chateau des Capitans Julienas is sourced from a single old-vine estate vineyard that is 17 acres in size. Even by Cru Beaujolais standards, that's tiny!

The land on which the tiny Chateau des Capitans estate sits has history dating back to Roman times. The property was considered a strategic headquarters by the leaders of the Roman armies in the area, hence the name "Capitan".

99% of the Beaujolais region is planted to Gamay. 1% is reserved for Chardonnay. I can't say I've ever tasted a Chardonnay from Beaujolais, but I am intrigued to do so!

Julienas takes its name from the leader of the Roman army, Julius Caesar.

Ok, I can't believe I'm typing this right now, but here goes…
When I was studying for the Court of Master Sommelier exam, I made up a rhyme to remember the Cru's of Beaujolais. It goes a little something like this:
Sam Just Can't Manage to Face Christina as the Relationship Became Crap, Basically.
I never said it made sense! However, it will give you the names of the Cru Beaujolais from North to South:
Saint-Amour, Juliénas, Chénas, Moulin-à-Vent, Fleurie, Chiroubles, Régnié, Brouilly, Côte de Brouilly.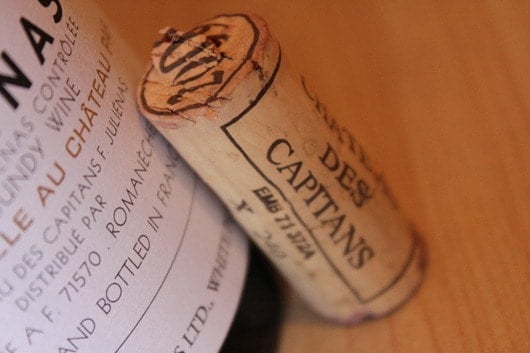 Taste
Has a great balance with wild strawberry as well as blue fruit. Blackberry lurking toward the back. Spice in the form of cloves, cinnamon and nutmeg. Oak is certainly there, but doesn't overwhelm. Finishes dry. Has potential to be aged for a few more years; something which you can't normally say about "regular" Beaujolais.
Pairing
Think authentic French cuisine, or for something a little more out the box: spag bol, burgers/steak on the grill, or red sauce pizza.
Price
$16.99