I think the last time I had Beef Stroganoff was in England over 10 years ago!
I worked a lot of banquet catering events, and "Beef Strog" was always the menu item of choice. I'm guessing mainly because it can be hot-held over a long period of time, with the one minor drawback being that the beef always ended up tasting like boiled leather. This Beef Stroganoff however tastes nothing like my English experience with the dish.
Side note; if you've been following this recipe series, you'll know that I mainly rely on FoodandWine.com for my recipe ideas. If you have a better online recipe source or a particular recipe you would like to see cooked, just send an email to: kris@blogyourwine.com
The winery I am featuring this week is the Biltmore in North Carolina and so I selected the Biltmore Century Red Wine to pair with the Coriander Dusted Beef Stroganoff.
Another simple and healthy recipe that's also a great winter meal!
I registered for a mortar and pestle for my wedding and am thrilled every time I find a recipe that requires the use of one! In this case, the coriander seeds need to be pummeled before being spread on the beef.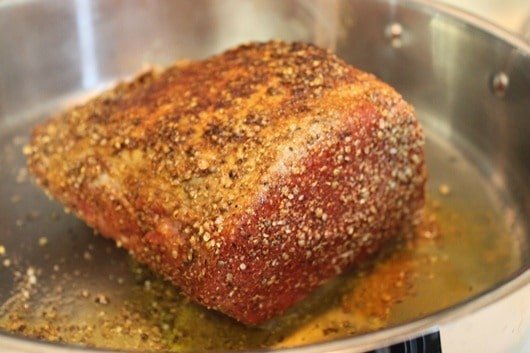 The coriander, paprika, salt and pepper rubbed beef.
…and after being browned on both sides, the beef is roasted in the oven until med-rare. This photo was actually just an excuse to get a photo featuring my Global knife that I received for Christmas. It's my new best friend, even though it has already cut myself 3 times since Christmas. I forgot how sharp a professionally sharpened knife can be!
The rest of the recipe is very simple, requiring onions, mushrooms, thyme, sour cream (I used fat free) and a gravy made from the beef. The beef is cut into 1/4 inch thick strips and thrown into the mix. Boil up some noodles add a little butter, and done!
The Biltmore Century Red Wine showed sweet red fruit, cranberry, raspberry, and red cherry. There is also a little earth, wood and smoky character lurking in there. Finishes medium in length and not too dry. The Century Red was very enjoyable and I'm surprised it doesn't see more market presence. It's very user-friendly and I would easily put it up against something such as the Apothic red blend (a big seller in the market right now).
Unfortunately while both the meal and the wine were great, I can't say that the pairing was that amazing. If anything, the wine had a little too much fruit for this dish, not that that's a bad thing. I would love to try it again with a recipe where red fruit and red meat are the main ingredients, such as Leg of Lamb with a Dried Cherry Sauce, or a Wine Braised Beef Filet.
I therefore rate this pairing as:
Neutral
My Food & Wine Pairing Guide
Bad Match
The interaction of wine and food when tasted together has a negative impact on the senses. This is common when the food item is high in acidity, salt, bitterness, or spiciness.
Refreshment
Many times wine serves simply as a satisfying refreshment to accompany a certain food choice. The refreshment match may be appropriate when the food severely inhibits a good or synergistic wine choice.
Neutral
These pairing situations are average and pleasant, but are missing an element of individuality and thus cannot provide a superior gastronomic experience.

Good Match
In this situation, you have found a wine that matches the food item's basic components (sweet, sour, bitter, salty) and overall body.  
 

Perfect Match
This essentially means the combined effect of the wine and the food paired together is superior to the sum of the individual parts.