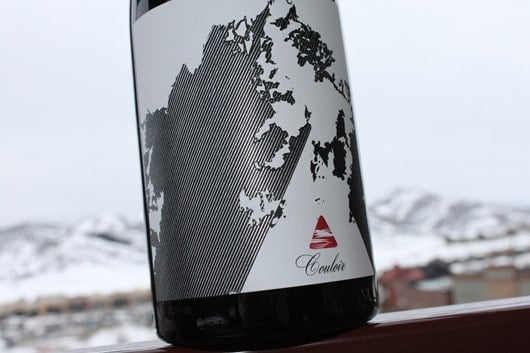 Grape
100% Pinot Noir
Facts
Couloir was founded by winemaker Jon Grant, who also finds time to hold down assistant winemaking obligations at Turley Wine Cellars. Grant learned the art of winemaking at Corison Winery and Plumpjack Winery.
Couloir is a relatively brand new operation, with 2007 being the inaugural vintage. The name, Couloir, means a steep mountainside gorge and reflects Grant's love for ski mountaineering. What a strange coincidence that I am therefore in Park City talking about his wines!
The Couloir Roma's Vineyard Pinot Noir is neither fined or filtered, practices which are used to clarify and stabilize a wine. The reason fining / filtration is so widely adopted can probably be blamed on consumers, as they generally don't want to see a cloudy wine.
Jon uses a 50% whole cluster fermentation. This may sound like geeky wine-speak, and it kind of is, but it has been a much debated issue in the wine industry over recent years.
In Layman's terms, it means that instead of separating grapes from the bunch (as with most modern winemaking) and then going on to make the wine, the whole cluster of grapes is fermented without any separation taking place.
The process is often risky, as a winemaker runs the risk of green or stemmy flavors in the wine derived from the vine stalks. If you have ever chewed on a grape stalk you'll know the flavor! However if you get it right, the wine will show complexity and uniqueness. Think of it like adding salt to soup; without it your soup will be dull and generally lifeless. This is why winemaker Jon Grant only uses a 50% whole cluster fermentation, so as not to "over season" the wine.
Only 145 cases of the Roma's Vineyard Pinot were made (therefore expect this wine to sell out quickly).

Place
Anderson Valley in Mendocino County certainly doesn't have the Californian notoriety of Napa or Sonoma, but the wines can certainly go head-to-head in terms of quality.

Roma's Vineyard is located at 1,850 feet on a mountaintop ridge. The vineyard was originally planted in 1990 for sparkling wine production, but a couple of years later was adapted for still wines. The vines are now almost approaching 20 years old.
Because Couloir is such a new and small operation, Jon employs Ardzooni Vineyard Management, a company that basically takes care of the vineyards he sources from. Ardzonni place a big emphasis on sustainability and organic farming. They also pick their grapes in the dead of night when it's cooler, so that grapes are fresher, crisper and still full of life.
The first winery established after Prohibition in Anderson Valley was Husch Vineyards, which crushed its first fruit in 1971. After that other winemakers followed suit, which was a sizeable risk at the time as Anderson Valley was thought too cold for wine grapes. Once French Champagne-maker Louis Roederer entered the region with the Roderer Estate winery in the 1980s, Anderson Valley was officially put on the map. There are now more than 80 wineries located in the region.
Taste
I've really started getting into these whole cluster Pinot's recently! They will probably be an acquired taste for most, but once you realize what the winemaker is trying to achieve, you'll learn to appreciate what has gone into them.
The Couloir Roma's Vineyard Pinot is a very light brick red, with the typical faint cloudiness that you expect from a wine that hasn't gone though fining or filtration.
The nose is one of the most complex on a Pinot I've ever tasted. There's certainly plenty of red fruit, but also a complex mix of baking spices, forest floor and tea.
The palate is extremely smooth with red cherry, cranberry, raspberry showing through with the same mix of spices including nutmeg, cinnamon and basil leaf. An eye-opening Pinot, this is the 2009, I would love to revisit it in a couple of years. The wine finishes long and smooth. 14% alcohol, but I never would have guessed it!
Pairing
Think about some of the flavors I described previously and try to match accordingly.
Hearty beef bourguignon, duck with cranberry sauce, eggplant, lamb, leafy greens, or game.
Price
$38 available in very limited from select retailers and online at CouloirWines.com
When you consider the quality of this wine, $38 is an extremely reasonable price to pay!