Grapes
100% Cabernet
Facts
Admittedly I've bit on a little "Napa-binge" lately, for which there is very good reason: I lost faith. Napa just hasn't been "turning me on" much recently. There's so much out there, but I think so many wineries are resting on their laurels, pumping out good (but not great) juice, slapping Napa on the label, charging a premium and hoping for the best. Fair play to them though, if it works! Suffice to say that the wine in this review has helped restore my opinion of "the Valley"…
The Fiftyrow Cabernet is actually 100% of the grape. This may not sound like a huge deal to the uninitiated, but it actually isn't common-practice in Napa Cabs to use 100%. Usually, other grapes such as Merlot and/or Cabernet Franc et al. are blended in to either "mellow-out" the wine, or just add another layer of complexity. Fiftyrow choose not to, instead relying on the quality of the main grape.
The wine was aged in 100% new French oak barrels for 26 months.
Owning a winery had been on Paul Johnson's bucket-list for quite some time, so in 2002 (before he hit the big 5-0) he took the plunge and decided to start his own wine label: the aptly-named Fiftyrow.
Place (click map for larger view)
The soil in the Rutherford region of Napa is dominated by well-drained gravel, sand, loam, volcanic deposits and marine sediment, providing perfect conditions for Cabernet vines.
Since Paul Johnson doesn't own vineyards, he sources his fruit: 50% from the Morisoli Vineyard and 50% from the Lewelling Vineyard.
The Morisoli Vineyard is comprised of just over 50 acres on the much revered Rutherford Bench in Napa. Owner Gary Morisoli is the fourth generation grape-grower in his family, continuing the legacy of this family-owned property for over 100 years. The vineyard is mainly planted to Cabernet, and is surrounded by some of the heaviest hitters of the Napa Valley, including: Joseph Phelps, Staglin, Rubicon, and Scarecrow.
"Cabernets need a touch of that Rutherford dust!" – Andre Tchelistcheff, legendary winemaker of Beaulieu Vineyards.
The Lewelling Vineyard in the foothills of St. Helena shares a similar history to Morisoli, with grape growing taking place since 1864, making it one of the oldest family-owned vineyards in Napa.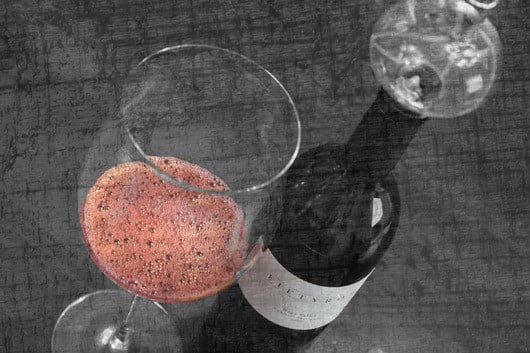 Taste
The Fiftyrow Napa Cabernet 2007 showed dominant dark berries, plum and fruitcake, beautifully rounded-out by tea leaf, bitter-sweet chocolate, tobacco, and an interesting toasted-coconut character (probably from the 24 months in French oak). The best Napa Cab I've tasted for some time. Good-to-go now, or certainly has potential for cellaring. 440 case limited-production.
Pairing
Well, I actually chose to pair the wine with Marinated Steak with Gorgonzola, Bacon and Shallot Butter in one of my most recent food pairing's and it was phenomenal, so I'm going to strongly suggest you do the same!
Price
$49 – available from Fiftyrow.com