Ahhhhhh fish tacos!
I can definitely put fish tacos in my top 5 favorite foods of all time. Simple, affordable, healthy and usually inexpensive. I've always said that if I was going to open my own restaurant, the simplest and guaranteed-not-to-fail concept I can think of is a taco restaurant. You don't have to have the best ingredients in order to make a phenomenal dish (therefore your overhead is low), the ticket times on food will be short and who doesn't like tacos!?!?! No-one, is that answer to that question! And if they do, I don't want to meet them!
I always have the worst luck in buying avocados i.e. finding them at a decent level of ripeness.
They should ideally yield a little to you squeezing them, and since the avocados at the grocery store had the pliability of a cannonball, I returned home and sent a text message to the Mrs saying: "Can you pick up 3 ripe avocados from Publix. What time will you be home?"
"Just leaving work. You suck." was her response, to which I interpreted as a "yes dear!"…
Even when my wife returned after her attempt at buying ripe avocados, they were still too bloody tough!
Since I've never been a huge fan of being told what to do by anyone (especially unripe fruit), I decided the meal was still going to go ahead, and that the best course of action would be to pulverize the bastards into submission! Into the blender we go! Normally I wouldn't suggest being this vicious with avocados when it comes to making guacamole, but if you're in a similar situation it's the only way forward.
If you're going to make this recipe, I also suggest you maybe look a different white fish, that is, if you're concerned about budget. I chose to use Red Snapper, which is no-doubt delicious, but isn't so much on the affordable side.
2 lbs (skin-on) was around $23 and served 2 of us, but you can probably get up-to 4 portions out of this recipe if you go a little stingy on your fish-to-cabbage ratio.
The inspiration for this recipe came from an article I found online last week. My thoughts have always been that pretty-much every recipe you've ever made is stolen from someone. In my eyes, all you need to do to claim a recipe as your own, is to follow the steps as written, throw in a few new ingredients along the way and change-up some of the weights/measures.
The original source for this recipe mentioned pairing this dish with a Central Coast Chardonnay. I think they're out of their minds. This dish needs crisp, refreshing, fresh, un-oaked, local alcohol (due to the jalapeno), bearing citrus flavors and something that's going to bring-to-life the very simple flavors of this dish. Chardonnay (in any form) would not have worked anywhere close to as well as the Vidonya Vinho Verde did.
I've been waiting to work a Portugese Vinho Verde into one of these pairings, and since summer is very fast approaching, this seemed like the perfect time.
If you haven't tried a Vinho Verde before and you're getting a little tired of the "usual suspect" summer whites, I suggest you give this grape some of your attention, especially since very few Vinhos sell over $15 retail.
The unique aspect of Vinho Verde (the name literally means "green wine') is that it usually has a little petillance to it, that is, a residual amount of carbon dioxide that adds additional freshness and vibrancy to the wine (see in the photo above). Just imagine dropping half an Alka Seltzer into a bottle of white, and you've got yourself a petillant wine!
The Mrs loved this wine, which I was thankful for, as I needed to pay her back from the avocodo-run!
She's a big fan of New Zealand Sauvignon Blanc, and the Vidonya Vinho Verde isn't too far removed for that particular style. The wine showed fresh cut grass, lime, yellow grapefruit, unripe green apple, and white chalk. At an alcohol level of 10%, this wine is perfect for dishes of this style, and could have even stood-up to handling more spice. The wine did exactly what I had originally intended it to do, and it truly brought the tacos to life, pairing perfectly with the avocado and the napa cabbage.
The Vidonya is available for around $12 retail.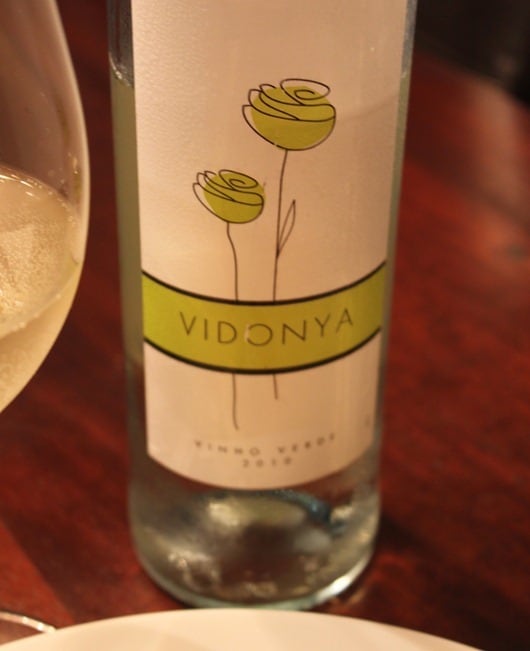 Recipe for Fish Tacos with Jalapeno-Lime Guacamole and Cabbage Slaw
Serves: 2-4 (depending on how hungry you are, and whether this is for lunch or dinner)
Prep Time and Cooking Time: About 40 mins
INGREDIENTS
– 3 avocados – cut in half, pitted and peeled
– 1/2 cup Greek yogurt
– 1 small jalapeno, halved, seeded and thinly sliced
– 1 teaspoon paprika
– 3 tablespoons finely diced red onion
– 4 tablespoons fresh and rough-chopped cilantro
– 6 tablespoons fresh lime juice
– Kosher salt and freshly ground pepper
– 1 small head of napa cabbage, shredded
– 2 tablespoons vegetable oil, plus more for brushing
– 2 pounds thick red snapper (or other white fish) fillets with skin, cut crosswise into 2-inch strips
– Small flour tortillas, warmed in the microwave
– 2 medium tomatoes, cut into small wedges
– Hot sauce, for serving
METHOD
Light a grill. In a medium bowl, mash the avocados, sour cream, jalapeño, red onion, cilantro, paprika and 3 tablespoons of the lime juice. Season the guacamole with salt and pepper and press a piece of plastic wrap directly onto the surface of the guacamole.
In a large bowl, toss the cabbage with the 2 tablespoons of vegetable oil and the remaining 2 tablespoons of lime juice. Season with salt and pepper.
Brush the fish with oil and season with salt and pepper. Grill over moderately high heat until lightly charred and cooked through, about 10 minutes. Transfer the fish to a platter and pull off the skin.
To assemble each taco, spread the guacamole on the tortillas. Top with a piece of fish, a few tomato slices and a large spoonful of the cabbage slaw. Serve with the hot sauce.