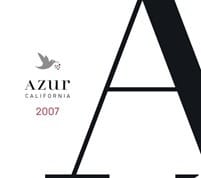 This post is another feature from Gary Vaynerchuk's Daily Grape wine newsletter.
Varietal: 90% Syrah, 10% Semillon
Gary's explanation of the wine:  With spring in full-effect, it's getting to be rosé season. Ladies, this will go great with all those outfits. And guys, don't be afraid of the pink stuff! On a more serious note, there's so much more out there than just that sweet, White Zin your Grandma used to drink. This 2009 Azur Rosé from Napa Valley is inspired by the great rose wines from the south of France. Bone-dry with great strawberry and rose petal characteristics, it's making a push to become one of the best domestic rosé wines I've ever had.
Tasting Notes:  "An almost coppery kind of rose shade, with a little hint of strawberry and rose petal on the nose. Wonderful acidity… this is yum-yum city. Kudos to Azur for allowing me to believe that there's real potential for rose in California. At the time of tasting, I don't know this wine's price point but if it's under $25, it's making a push for one of the best domestic premium roses I've ever had."
Score:  89+ pts.
Price: $26.00 MSRP