Ok, first-things-first, I didn't write the title for this article. "Grape Expectations" is way beyond my reaches of my creativity. Secondly; I wrote this article a couple of months ago for the Jacksonville Magazine "Taste" Edition…and I know we're out of Summer now….but I think it still has relevance…since the weather here is Florida is so bloody-warm well into November!
4 Summer Wines
Taltarni "Tache," Brut Sparkling, Australia
Description
The term Tache (meaning "stained" in French) refers to the lightly salmon color of this alluring sparkling wine. Made from a traditional "Champagne blend" of Chardonnay, Pinot Noir and Pinot Meunier, a dash of red Pinot Noir juice is added just after fermentation to give the wine its color. Taltarni "Tache," is the number 1 selling sparkling rosé in Australia within its price range; and let's face it, the Aussies know a thing-or-two about drinking in the summer sun!
Price
$19.99
Batasiolo, Gavi, Piedmont, Italy
Description
For the Pinot Grigio drinker who's looking to "drink outside the box." A well-made Gavi serves as a perfect summer alternative to the plethora of generic, non-descript and flavorless Pinot Grigio on the market. Like most other Gavi's, the Batasiolo is meant to be consumed in its youth. Pear, tangerine, lemon sorbet and sherbet all serve as the perfect way to cool-off during the summer months.
Price
$11.99
Tess, "Red & White Blend" Napa, California
Description
Don't be put off by this unique blend of Cabernet Sauvignon, Merlot, Petit Verdot, Zinfandel, Chardonnay and Sauvignon Blanc grapes. Peju Winery wouldn't put their name on anything less than exceptional! Tess is intended to be chilled and served as a summer sipper, without too much deep contemplation.
Price
$19.99
Altes, Garnatxa (Grenache), Terra Alta, Spain
Description
Although captured in a number of Pablo Picasso paintings, the region of Terra Alta remains one of the best kept secrets of Spanish wine. Contrary to the Spanish tradition of barrel aging their reds, there's no oak in sight on the Altes, making it a perfect compromise for drinking a red whilst sat in the sun. In-fact, don't be afraid to chill the wine for 10 minutes before serving, if you're really looking to soften-up the rich dark raspberry and juicy red fruit flavors.
Price
$12.99
4 Fall Wines
Amity Vineyards, Pinot Blanc, Willamette Valley, Oregon
Description
Evolved from Pinot Noir vines, Pinot Blanc presents itself as a way to slowly ease you out of the fruit-forward citrusy summer whites and into something a little more "robust." Whilst not quite as full-bodied as a Chardonnay, the Amity Pinot Blanc shows pear, peach, a hint of tropical fruit and subtle minerality throughout.
Price
$21.99
Yangarra, Shiraz, McLaren Vale, Australia
Description
Following the concept of "seasonal drinking," the Yangarra Shiraz offers the weight and texture needed to weather the cooler months. The Yangarra Shiraz more than over-delivers for the price. Rich and juicy blackberry and solid streak of spice and dark chocolate are all within easy reach, via the convenient screw-cap closure.
Price
$19.99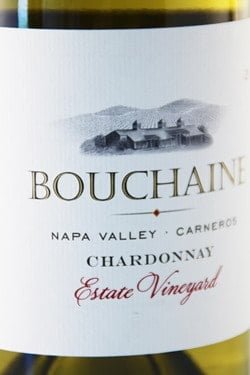 Bouchaine, Chardonnay, Napa Valley, Carneros, California
Description
Made from some of their original estate vineyard plantings (dating back to 1981), Bochaine prove that Chardonnay can hail from Napa and remain restrained at the same time. The oak in the wine is available, but none-too aggressive; instead leaving room for crisp green apple, lemon and a hint of cinnamon, nutmeg and green herbs.
Price
$29.99
Ferrari Carano "Reserve" Cabernet, Alexander Valley, Sonoma, California
Description
Whilst there's no legal definition on the term "Reserve" on a bottle of Californian wine, Ferrari Carano use the term to define wine made from their prestige mountain estate vineyards. This Reserve packs full-frontal fruit that would give most Napa Cabs a run for their money. Ripe blackberry, plum, black tea, tobacco, vanilla and anise are guaranteed to warm you up on those chilly autumn nights!
Price
$46.99