VinPass: Wine Lovers Can Now Check In
A new social game called VinPass has just recently launched. It's an application for wine lovers to "share wine reviews, win badges and earn real rewards. VinPass uses the 'check-in' paradigm popularized by location-based social network Foursquare and extended into other areas by the likes of GetGlue (entertainment) and Foodspotting (food). In a nutshell, you check-in to tasting a certain type of wine. If you write a review, you earn points and eventually unlock badges. VinPass promises that these badges have "tangible value" – including coupons on e-commerce stores, MP3s, ringtones, event tickets and more.
Click here to read the rest of this story.
My Thoughts
Now THIS an app I can relate to!
Vinpass is brand new, so it obviously has a lot to prove as far as matching up to other check-in apps already on the market, but I have no doubt that it will take off! I'm already an active user of FourSquare, so that may actually take a back seat to Vinpass. The one thing that's letting FourSquare down is there's really no benefits to participating, apart from the occasional free chips and salsa at Chili's.
I of course cannot WAIT for my first "check-in" at Boones Farm using Vinpass!
---
Diddy Hires Etiquette Coach To Teach His Staff How to Hold a Wine Glass
Media mogul Sean "Diddy" Combs has revealed that he requires all new hires take a crash course in how to properly eat caviar and hold a wine glass.
"iddy has hired an etiquette coach to school his Bad Boy employees on how to properly act in formal settings. A teacher named Dawn Bryan provided the staff with lessons on proper dining etiquette, business protocol in international terrain and other niceties.
Bryan, who calls herself an "international protocol expert," also taught employees "how to hold chopsticks, how to present a business card in Japan, guidance on giving business gifts and how to choose wine, hold a wine glass and eat caviar." The lessons, which took place at Bad Boy's Midtown offices in New York City, New York, are required for any new hires to the company.
Click here to read the rest of this story.
My Thoughts
I don't know how much you're paying, but Diddy, if you're listening, I'll show your peeps how to hold a wine glass for half of what you are right now! Holla atcha boy.
---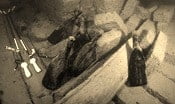 World's oldest bubbly sells for $73k
Two bottles of the world's oldest Champagne, which spent about 170 years at the bottom of the ocean, sold for 54,000 euros ($73,700) at an auction in Finland.
The second lot, containing vintage Veuve, fetched 30,000 euros, which the auction house – New York-based wine specialist Acker Merrall & Condit – said was the most paid for a bottle.
"The important thing for this event is that this was a world record for an auction," Richard Juhlin, an authority on champagne, said in an interview after the event. "I'm a little surprised the bidding didn't go higher. If you had speculators bidding against each other, it could have sky rocketed."
Bidders applauded at the Veuve price, given by the same Singapore-based internet bidder who minutes before gave 24,000 euros for a bottle of Juglar.
The bottles were sold in Mariehamn, capital of Aaland, a Finnish-controlled archipelago of 6,500 islands in the Baltic Sea, where divers discovered the precious cargo in a previously unknown shipwreck.
Click here to read the rest of this story.
My Thoughts
It seems like every week the worlds-oldest-bottle-of-something seems to be going on auction for some ridiculous amount of money! I'm going to check in my attic to make sure I don't have any of Thomas Jefferson's bottles stashed away that I've forgotten about!
---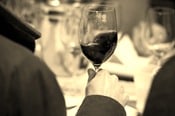 Glass act: Single wine pours on the rise
Restaurant diners are buying more wines by the glass — and are willing to splurge on high-end labels by the glass — even though the overall amount of money they spend on wine has dropped in the past few years, according to a survey released last week.
Ink Foundry polled more than 150 sommeliers, wine directors and restaurant and hotel beverage managers about their customers' habits. Nearly 90 percent of responders said diners are more wine savvy today than they were four years ago, and that they are requesting greater variety in wine by-the-glass offerings. About 73 percent said customers are willing to pay for a glass of a rare, expensive or high-end wine, even if they wouldn't shell out for a full bottle. And 87 percent said by-the-glass sales have increased over the last four years, while a similar percentage said bottle sales have declined as a proportion of their revenues.
Click here to read the rest of this story.
My Thoughts
Good news, I guess! The only part of this 'study' that I take issue with is how Somm's think consumers are more savvy than they were 4 years away. A little misleading I feel! I personally haven't seen too much of a change in consumers' wine knowledge over the last few years. Granted, as Millenials start to dominate the market, there is no doubt that their palates are more adventurous than their predecessors, but that doesn't mean they're any more knowledgeable!
---
Wines now pack more alcohol than labels claim
The rise of mighty merlots, stonking sauvignons and potent pinots has been a defining feature of our recent love affair with wine. And as the taste has got ever bigger so too has the alcohol. New research has revealed the modern breed of wine is even more powerful than is claimed on the label.
A study carried out for the American Association of Wine Economists found growers routinely understated the alcohol content of their wine to appeal to consumers' tastes for "more intense, riper flavors". With some brands now boasting 15 or even 16% alcohol by volume, varieties from New World producers in Australasia and the Americas — where the hotter climate produces stronger wines — had to mark down their product to make it appear weaker than European wines.
The authors found label claims on average understated the true alcohol content of Old World wines from Europe by 0.39%; and New World wines by an average of 0.45pc. Each extra percentage point of alcohol in a drink corresponds to an additional 0.8 units per bottle — the equivalent of 20% of the recommended safe drinking daily levels for men.
Click here to read the rest of this story.
My Thoughts
So why do wineries mislabel alcohol content on their wines? Well, there's a few reasons, but the main one would be taxes. Wines at 14% and over pay higher taxes, than those sub 14%, so wineries have the option to mark-down their ABV as much as is allowed by law.