Oh, this was a good one!
Last week I picked up a small bundle of cedar planks from the Riverside Arts Market here in Jacksonville; kind of an impulse purchase really since I've never actually cooked anything using cedar planks.The recipe I selected to test out my newly acquired planks was admittedly the first one I found after throwing "Cedar Plank Salmon" into Google. Luckily it panned out!
The recipe itself is very simple; just soak your cedar planks in salted-water for a couple of hours, then after removing the skin from your salmon (I chose Sockeye), place it on the plank, season with salt and pepper, spread with Dijon mustard and a little brown sugar, then place on the grill for 20-30 minutes. Et Voila! You'll be eating your dinner off a plank of wood in no time at all!
Another impulse purchase! Green Man Gourmet is a fairly new addition to the Avondale high street here in Jacksonville. A small independent gourmet-food retail shop, it's the kind of place I wish we had more of here in the River City, and certainly the type of place I'm all about supporting. When I was last down there (about 2 months ago) I picked up a few small packs of Black Truffle Salt, Hickory Smoked Salt and Murray River Salt. So far, the latter is the only one that I haven't pretty-much burned through.
Murray River salt is light and very delicately flavored, and therefore I thought it would be the perfect opportunity to test it out on seasoning the salmon. The salt itself actually comes from the Murray River region of Southern Australia, a region I know only through countless hours of studying Australian wine region maps!
When I first moved to this country, I had no idea what a Zucchini was. I thought it was some "new vegetable" that even after going to culinary school in the U.K., I had never stumbled across. Then I found out that you crazy American's had just decided to rename what I know as a Courgette, to Zucchini. Even the spellchecker on my laptop doesn't know that Courgette is a word; its suggestion was Tourette…
Oh, and by the way, I'm not actually a Florida Seminoles fan. It's just the only plate I could find at the time (I know you were wondering), and I really need to give to back to the person that left it at my house!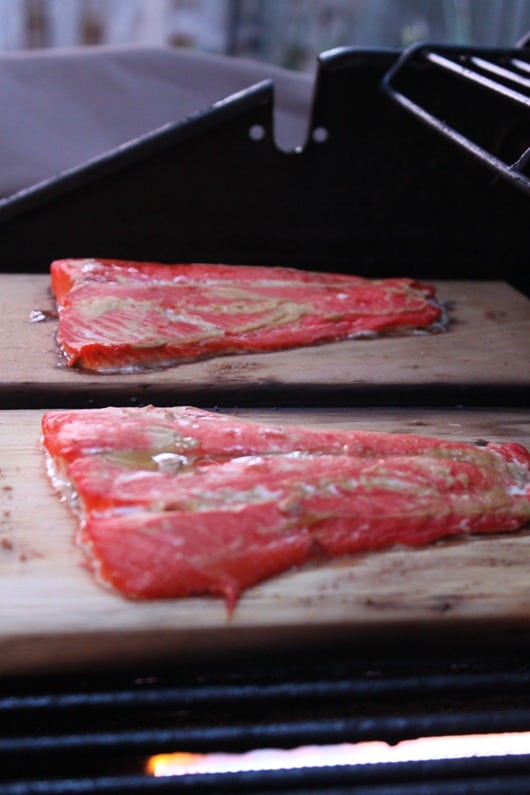 What a pretty sight that is. Word of advice if you're going to attempt this recipe: because I kept opening and closing the lid on the grill, the salmon ended up being a little more overcooked than I would have liked. Keep the grill cover closed, and 20 minutes should be plenty of cooking time.
The Courgettes / Zucchini's in all their grilled glory, finished with a little feta cheese.
I hold a special place in my heart for Trinitas Cellars. The tasting room is actually attached to the Meritage Resort in Southern Napa, the hotel that I stayed at with the Mrs., whilst visiting Napa and San Francisco a few years ago. Awesome place, probably the nicest hotel I've ever stayed in!
I'm actually surprised that it took this long for me to review one of their wines, since I joined their wine club (as you do when in Napa), and still hold an active membership.
Trinitas was actually founded by Matt Cline in 2001, one of the founders of Cline Cellars. The focus of the winery is placed mainly on old vine Zin, Petite Sirah and Mataro (Mourvedre); but they also produce a Cab, a Meritage, a few whites, and obviously this Pinot. Matt sold Trinitas in 2006 after building the winery up to 9,000 cases, and is now focusing on his own brand, Three Wine Company.
The Trinitas Carneros Pinot Noir 2009 bottling showed a medium-concentrated body, with a compote of ripe raspberries, dried cranberries and bright red cherries. The fruit certainly wasn't on its own, with cinnamon, incense, a little tree bark, cola and some earthy notes it keep it company. The balance was great, but the alcohol showed through a little more than I would like. A lingering finish, but certainly didn't overpower this dish.
I was actually planning on originally pairing this meal with a white, possibly even a rose, however I'm glad I reached for a Pinot. The small moderate oak exposure on the Trinitas Pinot matched really well with the cedar plank salmon, better than I ever would have thought it would. The fruit provided an interesting contrast, but was brought back into balance by the spice component of the wine.
Give it a go. Let me know what you think!
I'll rate this as a:
Perfect Match