This morning (6am EST) my wife and I left for Park City, Utah. It's going to be an interesting trip to say the least, since I am featuring a winery while I am out there. It's kind of a half-work, half-play vacation.
Wines from Couloir will be featured for the entire duration of my stay, I have packed my bags full of their amazing juice and will be talking about them for the whole trip. However, since this trip has been such a long time coming, before I get started on talking about Couloir, I'd like to share with you a little background on this vacation.
On November 21st 2010 I turned 30. 30 years old! Wow! Amazing how time has flown!
I had already made up my mind a long time ago that for my 30th I wanted to be on the snow in Park City, Utah. I've always had a thing for snowboarding / skiing ever since I was young. The funny thing is, 2009 was actually my first experience doing either. I would always watch Ski Sunday on TV as a kid in England ,and just be mesmerized by the mountains, the snow and everything that went along with it.
So to cut to the chase, the months of 2010 start flying by, and it's getting close to November. I keep checking the weather reports all the way into late October, and it isn't looking too promising for snow in Park City on my birthday week. After a brief phone call to my wife's Uncle who lives in Salt Lake City, he advises us that planning a snowboarding trip in November is a really bad idea. He also warns that even if there is snow, it will basically just be slush and nothing like the powder we have experienced previously. After much deliberation, we decide to delay until 2011.
So then what happens (obviously)? Park City experiences some of the most snow in November in recent history! 
So instead of carving up the slopes on my 30th birthday, I stayed in Jacksonville and watched the record snow flurries on the Park City webcam.
I can only imagine Uncle George's ears were burning well into Christmas!!!
(In case you are interested, here is a link to the live Park City webcams.)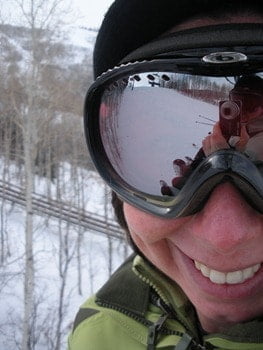 This will be our third trip to Park City . The first time we were there (back in 2009), it was made all the more memorable by the fact that we had a close encounter with Winter Olympics and X Games gold medalist Shaun White!
How crazy is that!?!? My first time out snowboarding and Shaun White is out there! Kind of a big deal since both my wife and I are huge fans of his!
As he snowboarded past my wife, he even remarked "Nice boots!" (at least I think it was "boots"). She was wearing rental Shaun White signature snowboarding boots at the time, and he recognized them (since they were basically designed by him). 
Fortunately as luck would have it, my wife had a camera on her. Did I mention that my wife is one of the world's greatest photographers? No? Well she is, as the below photos will prove!
Please be aware that this is the first time these EXCLUSIVE PHOTO'S of Shaun White have been posted online!
Love this photo! In case you didn't know, of the two guys stood together, Shaun White is the one on the right. The timing of this photo was critical, as it was captured at the exact moment a guy with ski's was walking past so as to obscure the only identifiable thing about Shawn White from the back, namely his ginger locks. It will forever remain a mystery to me why Mrs. Chislett doesn't quit her day job and teach photography classes…
Isn't this one even better!?!?! Here we again see Shaun (the one on the right) in his natural habitat. I feel it totally embodies that spirit of the man and legend that is Shaun White! Word is that he plans to use this for his bio photo.
So even though the photos of Shaun White suck, there is a special place in my heart for my first trip out to Park City. 

We're staying in the same hotel as we did last year, the New Park Resort. It's not very often that I issue a call to action, but if you are going to Park City check out New Park! I sincerely recommend it! Very affordable, contemporary décor, ultra-close to skiing, but the deal closer for me was the fact that the rooms have hot tubs on the balcony overlooking the mountain! There wasn't a day that went by on our last stay that we weren't in the Jacuzzi, relaxing with a bottle of wine after a long day of snowboarding!
To bring this post to a close, I dug up some short-but-sweet Park City facts.
*Park City was founded as a silver-mining town in 1869. It was the second largest silver mine in the U. S., 1200 miles of mining tunnels under the city; the deepest mining shaft is 2600'.
*Skiing became largely popular in Park City in the 1950s.
*Famous Park City residents include, Michael Jordon, Bill Engvall John Schnatter (found of Papa Johns), and pornstar Harry Reems!
*Katherine Heigl was married in Park City in 2007.
*Scenes for one of the greatest movies of all time were filmed in Park City.
That movie? Dumb and Dumber!
*Park City is home to more than 130 different restaurants. Hopefully one day I will get to them all!
Keep checking back as I'll be posting daily photos and articles on this site and Facebook page of my stay in Park City. Although if Shaun White is out there again this year, I'm in charge of the camera…