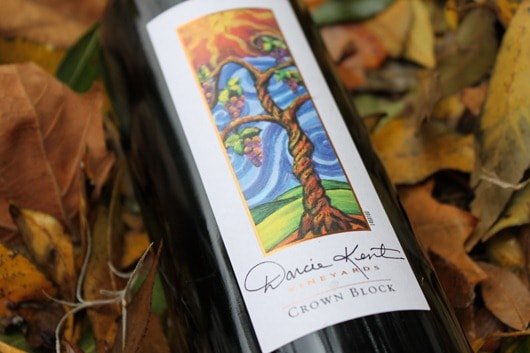 Grape
100% Merlot
Facts
Merlot is believed to have received its name from an old French word meaning "young blackbird". (Merle is the French word for several kinds of birds). Two components link the Merlot grape with blackbirds, the first being the grape's dark blue color, and the second being the bird's liking for the grape.
The earliest recorded mention of the Merlot grape was in 1784, but the French were obviously growing it long before that.
Darcie Kent is a fourth generation winemaker and artist. She established Darcie Kent Vineyards with her husband in 1996, and focuses on limited-production, single-vineyard wines.
Wine nerds at U.C. Davis believe that Merlot is an offspring of Cabernet Franc and the lovechild of Carménère and Cabernet Sauvignon.
There are less than 250 cases made of the Darcie Kent Crown Block Merlot.
Place (click map for larger view)
The Livermore wine region is about 30 miles East of San Francisco.
Livermore Valley is one of California's oldest wine regions. Robert Livermore planted the first commercial grapes in the 1840's.
Wineries in the Livermore Valley were the first to bottle varietal labeled Chardonnay, Sauvignon Blanc and Petite Sirah. Nearly 80% of California's Chardonnay vines can trace their genetic roots to a Livermore Valley clone.
The shape of the Livermore Valley enables the coastal fog and coastal breezes to come in from the Pacific Ocean and the San Francisco Bay and cool the warm air in the valley. This results in warm days and cool nights, ideal conditions for producing ripe but balanced grapes.
The Livermore Valleys' biggest claim to fame is the gold medal for wine won in 1889 at the Paris Exposition, effectively putting California on the world wine map.
Taste
Rich black cherry, plum and blackberry fruits. Forest floor, tobacco, vanilla bean, cinnamon, earth and dried herbs also show through. Bordeaux-like in nature. This a beautiful wine, my type of Merlot! I've got this thing for "game changing" Merlot's, i..e wines that change everyone's' opinion about the grape. This is one of those wines. Great acidity, definitely decant or aerate, and the Darcie Kent Merlot would definitely benefit from some time in the cellar! You can really see this wine evolve in the glass as it slowly opens up.
Pairing
This wine begs for beef, that's why I chose the Darcie Kent "Crown Block" Merlot to pair with Prime Rib for my Christmas Day dinner!
Price
$36 from Underdog Wine Merchants