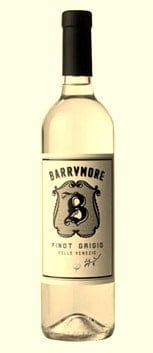 Drew Barrymore is the latest celeb that has entered the wine business. Wilson Daniels Ltd. has been named the U.S. importer for Barrymore Wines. Drew's first offering is a Pinot Grigio from Italy.
Barrymore Pinot Grigio is an IGT Delle Venezie, made from grapes grown the Triveneto area, comprised of three of Italy's most northern regions: Friuli Venezia Giulia, Trentino Alto Adige and Veneto—regions renowned for producing crisp and fruity white wines.
The Barrymore label showcases her family crest and was designed by Shepard Fairey, the popular street artist/designer behind the Obama Hope poster of 2008.
Drew Barrymore joins an esteemed collection of celebrities in the wine business around the world that includes Francis Ford Coppola, Antonio Banderas, Wayne Gretzsky and Sam Neill.
The wine will launch in California, with broader distribution planned for spring 2012 and has a suggested retail price of $19.99.
Click here for the full link.

My Thoughts
As far as I'm concerned, Drew Barrymore can do anything she wants, and she'll always be alright in my book! I'll give her wine the benefit of the doubt until I've tasted it, although it's fair to say that celebrity wines are always going to be initially be treated with contempt until people have tasted the juice for themselves. Check out what happened to Cliff Richard.