Grape
100% Montepulciano [Mawn-teh-pool-CHA-noh] It's a fun grape to say, especially if you do so with a really bad Italian accent. Say it with me: "Montepulciano!!!"
Facts
I hope you're paying attention, because this is going to get tricky for a second! This wine is made from the Montepulciano grape; however there is ALSO a town called Montepulciano in Tuscany, which as it happens is nowhere near the Abruzzo region where this wine hails from.
European wine is never easy to understand!!!!
The Italians do help you a little with their wine labeling, and here's a nice little rule to remember that is 99% effective….
A number of Italian wines tend to be labeled with the name of the grape 1st, and the place where the wine comes from 2nd. Therefore this wine is a Montepulciano d'Abruzzo, so the Montepulciano grape from the Abruzzo region. Here are a few more examples, Moscato d'Asti, Barbera d'Asti, Brachetto d'Acqui, Fiano d'Avellino and Dolcetto d'Alba. Grape 1st, Region 2nd.
Place (click map for a larger view)
The Abruzzo [ah-BROOT-soh] region of Italy is located in the Central Eastern part of Italy on the coast of the Adriatic Sea. The unique position of the vineyards allows them to benefit from the sea and mountain breezes, producing wines that are full in body and truly represent the characteristics of the region.
If a winery chooses to age their Montepulciano by at least 2 years, they may label it as "Riserva."
The Montepulciano grape goes by several other synonyms in wines from the Abruzzo region, including Cordisco, Morellone, Primaticcio, and Uva Abruzzi. I told you Italian wines are hard to understand!
For more information, visit Trilussa Wines (the importer) at trilussawine.com.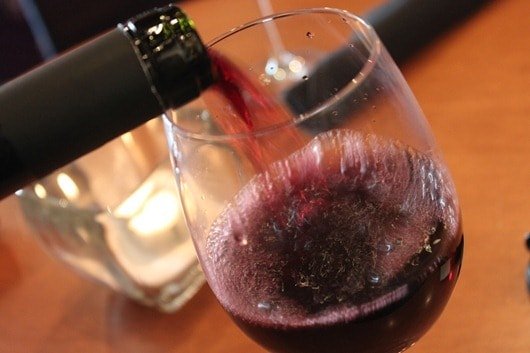 Taste
The nose also shows violets, blueberry and blackberry pie and clove. Nice and chewy on the palate, but not overwhelming. The ripe cherry and berry flavors continue throughout. A really beautiful wine, especially for the price. If I had blind tasted this wine I would have easily guessed twice the price. Think of Montepulciano like a cross between Merlot and a Chianti.
Pairing
You know my advice when it comes to Italian wine! Keep the food Italian!
Red sauces, pasta, pizza are all a given. Flank steak, roast beef, sausage, venison and game in general. Also think about dishes with dried herbs, especially rosemary, oregano and thyme; and hard Italian cheeses.
Price
$12.99, average retail and a fair price to pay! I've had worse Montepulcino's that are closer $20 retail. Do yourself a favor and pickup more than one bottle, you won't be disappointed. Mark my words, Montepulciano's will increase in price over the next few years once people start discovering / learning how to pronounce them!