Just another short article I wrote for Jacksonville Magazine…
Mumm Napa Brut Rose Sparkling – $18.99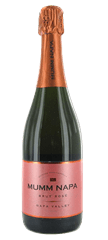 For bubbles on a budget – without compromising quality – it's hard to go wrong with Mumm Napa.
The winery's history began in 1979, when French Champagne house Mumm began looking for a location to make American sparling wine. Made in the "Champagne-style," although not true Champagne (since it hails from California), the Mumm Napa Brut Rose is a fun, fresh and lively sparkling wine to get your New Year's party started with a resounding "POP!"
Duval Leroy Brut – $31.99
Don't let the price fool you! Unlike other Champagnes in this price-point, Duval Leroy always over-delivers with each one of their wines.
Founded in 1859, the winery is one of the few Champagne producers to remain 100% family-owned. Fresh, creamy and vibrant, with the added ability to pair well with most finger foods, the Duval Leroy Brut shows that you don't have to break the bank to party in style.
Barnaut Grand Cru Brut – $50.99
With Champagne, you really do get what you pay for; although, you will certainly always be rewarded if you give the big brands a miss this New Year.
Instead, explore some of the smaller "grower Champagnes," such as the Barnaut Grand Cru Brut. Chardonnay and Pinot Noir grapes are hand-harvested in the Champagne village of Bouzy, to produce a wine of outstanding complexity and elegance. Pear, green apple, toasted almonds and brioche are all held together by a rigid backbone of acidity.