A couple of years go, the Mrs. and I jetted off to the small Italian island of Sardinia for the marriage of two of our best friends; Mr. Adam Bartoy and Miss Jacqueline Mariani.
Jacq's family is native to Sardinia, and so both her and Adam end up going back there about every couple of years for family obligations. Their most recent obligation/vacation (a couple of weeks ago) was for a baptism, and when they arrived back they offered to gather a bunch of us together for a traditional Sardinian feast.
What follows is just a brief photo diary of that night.
Jacqueline in the kitchen, where she belongs!!! :) I'm just kidding. I actually think Adam does most of the cooking in the relationship…
I think this could in fact be my new favorite cocktail, which is lucky as it was promptly thrusted into my hand when we first arrived at the Bartoy residence!
Adam discovered the recipe whilst at a restaurant in Sardinia; and it's quite simply cranberry juice, vodka, ice, sugar, fresh basil leaves, and a couple of crushed cherry tomatoes muddled in.
It's called a Mediterranean Mojito. You should give it a try. I can't say I've ever tried a cocktail that was quite as refreshing! I'd never have thought basil and tomatoes would have worked quite as well as they did.
Olives brought back from the tiny island of Sardinia.
I seriously don't think Adam and Jacqueline packed any clothes on the way back from Sardinia! Their bags mush have just been full of food!
Pane Guttiau is simply thin crispy sheets of dough made from semolina, wheat flour, water and salt. We couldn't stop eating it when we were over there for the wedding.
Mrs. Chislett on the left, and Jacqueline Bartoy on the right. No, in case you were wondering, my wife isn't 8 feet tall. The Sardinian people are just very short!
This is about as Sardinian as it gets! Stuffed squid with tuna and shrimp in a Vernaccia (type of white wine) sauce. Apparently it took Adam a couple of hours to stuff all that squid…whilst Jacqueline stood by and consumed Mediterranean Mojito's…
By now you can probably see that the Sardinians are very into their seafood! Thankfully though, Mr. and Mrs. Bartoy didn't try to smuggle this back in their luggage! Seafood salad, made-up of mussels, clams, octopus, calamari and shrimp.
Home-made pasta, that's right; I said HOME-MADE pasta, accompanied by the above.
I draw the line at making my own pasta at home. I let Publix do the work! Adam clearly has too much time on his hands! I'll give him credit though, it was pretty special!
The first wine we started with, after the Medi Mojito's were all gone.
Orvieto is an Italian wine region (on mainland Italy), which produces mainly white wines from the fairly obscure grapes of Grechetto and Trebbiano. Think Pinot Grigio, but with more aromatics!
The wine had great acidity, making it a perfect pairing component for fresh seafood. Lots of apricot, honeydew melon, peach and anise. I can't remember the exact winery, but if you're looking for a decent and affordable crisp and refreshing summer wine, you can't go wrong with a white from Orvieto.
The second wine. Cantine di Dolianova "Monica di Sardegna". Monica is the grape, and I'm not going to lie, I'd never even heard of it before this night! Funnily enough there is also very little information available on it, either in books or indeed on the Information Super Highway.
Monica is primarily found on the island of Sardinian, and the wine showed dominant stewed red fruit and floral aromas, very much in line with the majority of reds from Sardinian. It almost tasted like a cross between Sardinian grape Cannonau (Grenache), and Sicilian grape Nero d'Avola. Food wine.

The problem with holding the camera, is that I never end up being in any of the photos! From top-left going clockwise, Mr Lou Irwin, Mr Adam Bartoy, Miss Julie Bohn and Mrs Jacqueline Bartoy.
After dinner, we all gathered together for tiramisu, Limoncello and beers.

Limoncello. I don't understand it. It tastes like floor cleaner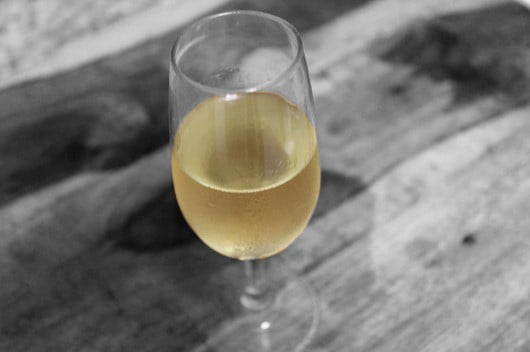 Oh, Ichnusa! How I miss thee! Not available in this country (trust me I've looked), we were drinking these island-made beers like they were going out of fashion when we were over there! Adam and Jacqueline only brought 2 back from this trip, which the 6 of us pretty-much inhaled; mainly to take away the taste of the Limoncello.
The Sardinian crew, in all our many colors!