Just a heads-up, this isn't exactly the easiest and quickest pairing I've ever done, but the outcome was certainly worth the extra time spent on prep.
It's quite convenient that I have small fish monger a mile down the road from me, and if you aren't able to get your hands on good quality "sushi grade" tuna, I probably wouldn't attempt this recipe. This quality is vital, as we're only going to be grilling the burgers to a rare/med-rare temp. Any more than that and it'll completely defeat the point of using good tuna.
I seem to say this a lot, but if you haven't ever attempted one of my pairings before, this is your big chance! This pairing was phenomenal. Truly. The simple fact is that if a pairing was any less than perfect, I wouldn't take the time to feature it (these articles take hours). You therefore have my guarantee that if you see it here, it's certainly worthy of your time!
You'd also be doing yourself a favor by checking out the Waterbrook Sauvignon Blanc, but we'll get to that later…
Let's get going…

We're starting out nice and easy with the onion, cucumber and rice vinegar mix. My Grandma used to make something very similar back in England, substituting the rice vinegar for malt vinegar, which she named "Pickled Nerks". I don't exactly what the translation of a "Nerk" is, but they were quite delicious when served alongside her home-made Meat 'n' Tattie Pie.
A handy little tip for finely chopping basil, is to roll all the leaves into one of the larger leaves and chop from there. Side-note: fresh herbs are essential for the mayo. Don't try and cheat by using dried basil and cilantro. It just won't do.
The Ginger-Lemon Mayo is another key component to this recipe, and the main reason the wine worked so well as a pairing. Sauvignon Blanc (from anywhere) will certainly always lead with lemon, lime and herb flavors, thus complimenting most of everything that went into the mayo mix.
Next comes the fish. This was a fairly healthy sized potion (1.5lbs I believe), and a turbo-sharp straight-edge knife is essential is you want to slice the tuna cleanly into chunks, without turning it into mush.
I was in a hurry at the store, and since I couldn't find chopped peanuts quick enough, and whole peanuts (in the shell) were staring right in the face, I figured it would be a nice and easy job for the Mrs. to "help" with. The peanuts, although almost viewed as a garnish in this recipe, added a nice-little "umami" element into the mix.
Now comes the tricky part. It was an act of the culinary Gods (or maybe it was the liberal amount of oil I applied to the grill) that held together these burgers. Either way, they were shining down on me yesterday.
In my mind I pictured everything going swimmingly with preparation for this recipe, then it comes time to grill the tuna burgers, and it all swiftly goes to sh*t as I watch the tuna fall apart, and before you know it we're eating Thai Tuna Mush with Ginger-Lemon Mayo for dinner.
If you're going to attempt this recipe, I strongly suggest you make sure the burgers are tightly compacted, and don't spare any oil when you coat the grill.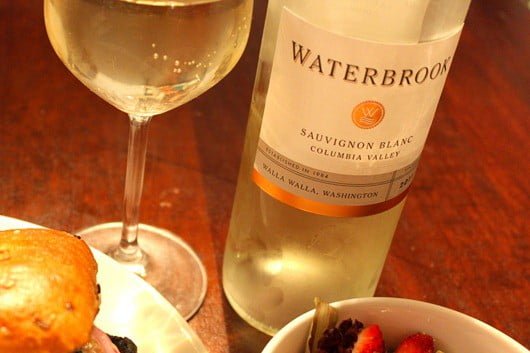 Waterbrook Sauvignon Blanc comes to us from the Columbia Valley region of Washington State. What I liked most about this wine was that it retained the character of what you "expect" from a well-made Sauvignon Blanc, without feeling like someone is ramming lemons, limes and gravel down your throat. Instead, the Waterbrook SB was well-rounded and elegant, offering the versatility to be enjoyed by itself, but also when paired with food. I'd challenge you to beat it for the price (around $15).
Fresh and crisp, with bright apricot, lemon zest, melon, grassy and gooseberry flavors. The finish lingers and quenches your thirst as only Sauvignon Blanc can.
Click here for the Waterbrook Facebook Page and here for their website.
Recipe for Thai Tuna Burgers with Ginger Lemon Mayo
Serves: 4
Prep Time: 45 mins
Cooking Time: 15 mins
INGREDIENTS
1 cucumber, thinly sliced on a strong bias
1/4 medium red onion, thinly sliced
3 tablespoons rice vinegar
1 tablespoon plus 1 teaspoon sugar
Kosher salt and freshly ground pepper
2 teaspoons finely grated fresh ginger
1 garlic clove, smashed
1 Serrano chile, seeded and minced
2 tablespoons Asian fish sauce
2 tablespoons finely chopped cilantro
1 tablespoon finely chopped basil
1 1/2 pounds sushi-quality tuna
4 tablespoons vegetable oil
2 tablespoons Asian sesame oil
4 hamburger buns
Ginger-Lemon Mayonnaise (recipe below)
2 tablespoons finely chopped dry-roasted peanuts
METHOD
1. Throw the cucumbers, red onion, rice vinegar, 1 tablespoon of sugar, 1 teaspoon of salt, and a pinch of pepper into a bowl and gently mix. Leave for 30 mins at room temp.
2. In a mortar, crush the ginger, garlic, chile and 1 teaspoon of sugar to a paste. Stir in the fish sauce, cilantro and basil. On a chopping board, slice the tuna into 1/2 inch slices, and cut into 1/2 inch matchsticks. Then cut the sticks into 1/2 inch cubes. Add the tuna to the ginger paste and mix.
3. Shape the tuna mix into 4-5 burger patties. Pace on a plate and refrigerate for 15-20 minutes.
4. Light a grill. Combine the vegetable oil and sesame oil in a small bowl. Lightly brush the burgers, the cut sides of the buns and then the grill with the oil. Grill the burgers for 6-8 minutes, turning once, until cooked to rare/med-rare. Remove the burgers from the grill and then grill the cut sides of the buns until toasted.
5. Drain the cucumber salad off the vinegar. Spread the Ginger-Lemon Mayonnaise on the cut sides of the buns and set the tuna burgers on the bottoms. Top with the cucumber salad and sprinkle with the peanuts. Cover the burgers with the buns and serve.
Recipe for Ginger-Lemon Mayo
INGREDIENTS
– 1 cup mayonnaise
– 3 tablespoons soy sauce
– 3 tablespoons finely chopped cilantro
– 2 tablespoons finely chopped scallion greens
– 2 teaspoons sesame seeds
– 3 teaspoons finely grated fresh ginger
– Grated zest of 1 lemon
– 2 tablespoons lemon juice
– Freshly ground pepper
METHOD
1. Throw everything in a bowl, and mix.